1,977 total views, 4 views today
Source: SimpleFLying.com
The charismatic PNG Air is celebrating its 35th birthday with pride in its history.
Papua New Guinea's national airline PNG Air has launched a song competition to celebrate its 35th birthday as part of the company's anniversary celebrations. PNG Air welcomes all musicians, no matter whatever instruments they play, to submit 60-second audio to participate.
PNG Air wants the song that puts the customer at the heart of its 35-year history and tells the story of who it is now.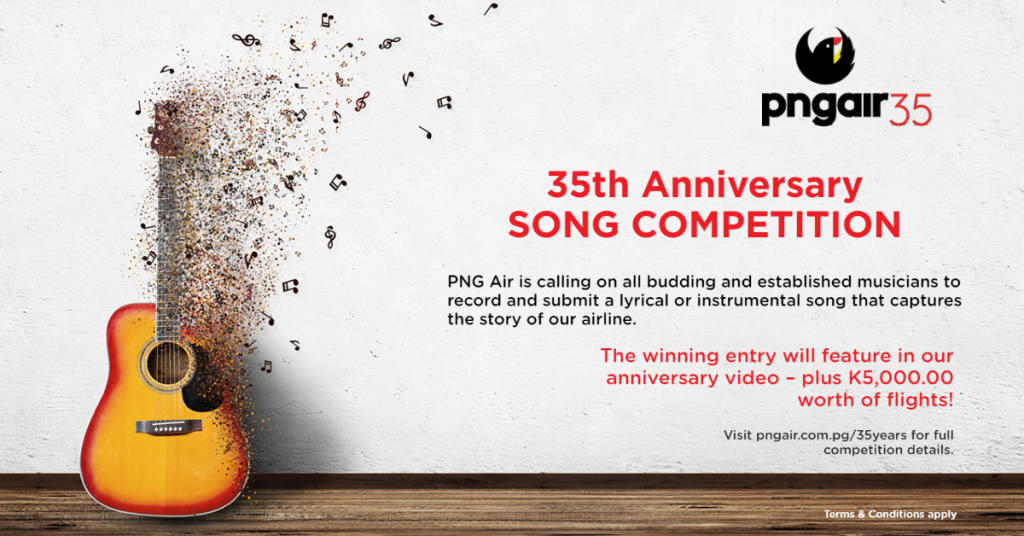 PNG Air wants a song to feature in its anniversary video. Photo: PNG Air
K5,000 (US$1,418) worth of flights will be awarded, valid for 2 years. The winner's work will feature in PNG Air's anniversary video. The deadline for submissions is May 31st, and entrants can submit their entries through PNG Air's website and Facebook page.
35 years into an exciting journey
PNG Air was founded in 1987 and initially named Milne Bay Air. It started its operations with two Grumman Goose aircraft as a charter service provider on June 30th. The service, in the beginning, was mainly around Milne Bay Province's islands, located near the east end of the New Guinea Peninsula.
In 1992, the airline received its Regular Passenger Transport License, which allowed it to enter the scheduled passenger flight business. Meanwhile, it also expanded its fleet size. In 1993, the airline embraced its first significant rebranding and moved its base to the capital city – Port Moresby.
In 2001, the airline changed its name again to Airlines of Papua New Guinea Limited – or Airlines PNG. With the rename, the airline also changed its livery, signifying a shift towards the future.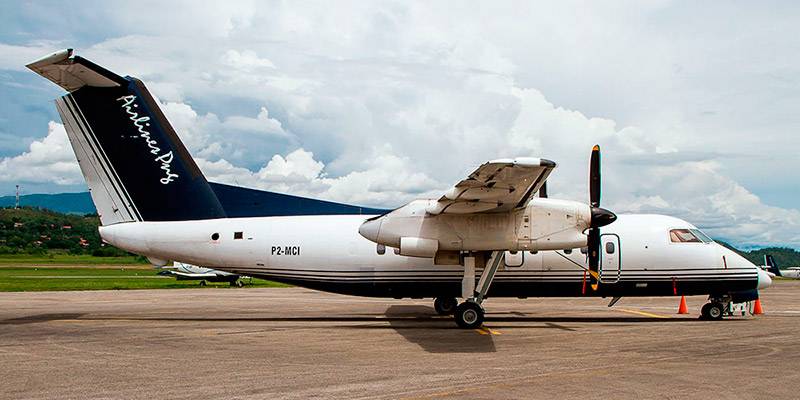 Airlines PNG (predecessor of PNG Air) operated Dash 8-100 with a newly changed livery back in 2001. Photo: PNG Air
In 2006, the airline started its international passenger service. It launched routes between Brisbane and Port Moresby on a twice-weekly basis, using a leased Boeing 737-200 with an all-business class layout. Later, international service to Cairns, Australia, started with a Dash 8-100 aircraft.
In 2008, the airline became a public company. After listing, the airline continuously expanded its network further. In 2011, for the first time, its operations reached New Guinea Islands, like Hoskins (Kimbe) and Rabaul (Kokopo). In 2013, with the Dash 8-100 fleet growing to 14 aircraft, the network expansion reached Madang, Wewak, and Popondetta.
In December 2014, the airline signed a contract to purchase six ATR 72-600. The following year, with the first new ATR 72 delivered (registered as P2-ATR), the airline also had a new name and a new brand. On November 5th, 2015, PNG Air unveiled itself in Port Moresby in the presence of Peter O'Neill, Prime Minister of Papua New Guinea.
PNG Air entered a new stage of development with its first delivered ATR 72-600 (registered as P2-ATR) in 2015. Photo: PNG Air
In 2017, PNG Air changed its livery to the current look, making it into CNN Travel's top 18 best airline liveries. By the end of 2017, PNG Air's fleet had seven ATR 72-600. It is also worth mentioning that PNG Air gets into the freighter business using Dash 8-100 freighter aircraft with a cargo payload of up to 4 tonnes.
With its 35th birthday coming, PNG Air now operates a mixed fleet of ATR 72-600 and the Dash 8-100 plus a Dash 8 Freighter. It has 460 flights per week, serving 24 destinations in Papua New Guinea. The well-designed 35th birthday logo represents all the distinct elements of its livery, expressed through the Bird of Paradise.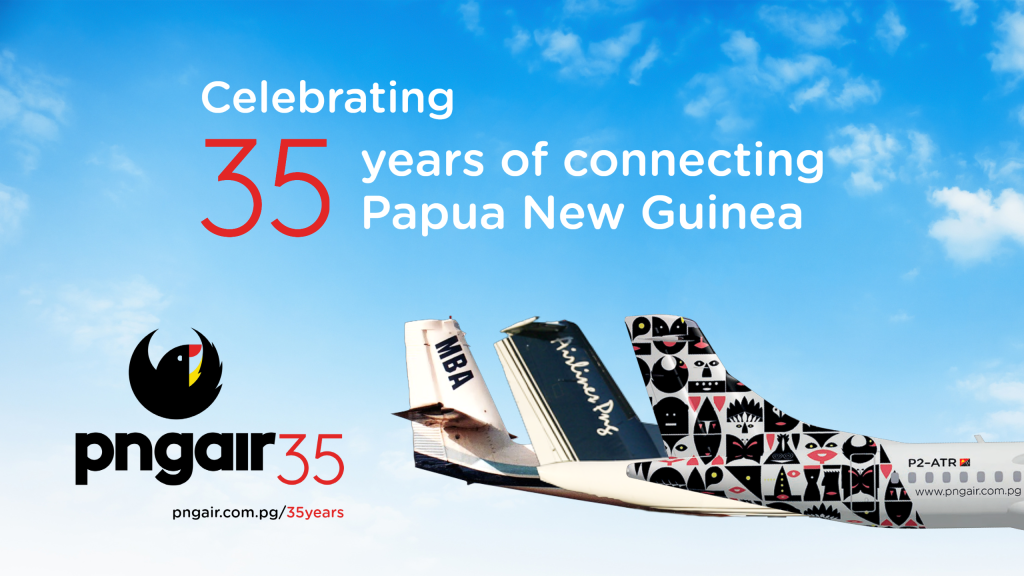 The three liveries represent PNG Air's 35 years of history. Photo: PNG Air